Blog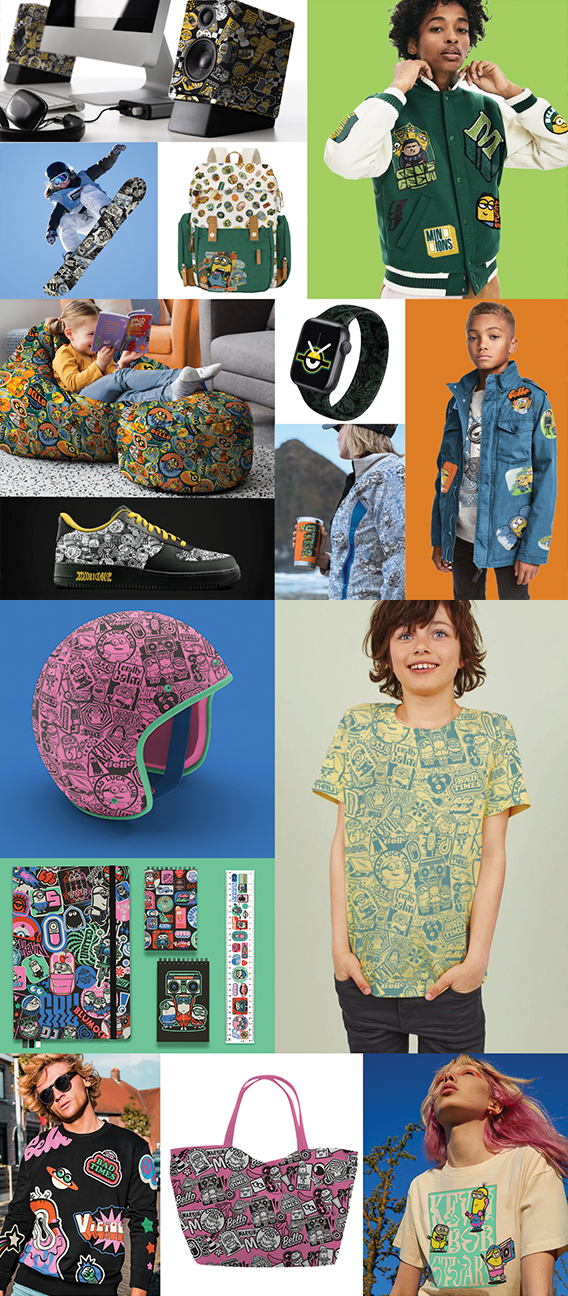 Minions 2 – The Rise of Gru Style Guides 2021
For the upcoming 2022 movie release of Minions 2 : The Rise of Gru I worked on several style guides during 2021. Originally the movie was due to release in the summer of 2020 but has been pushed back several times due to Covid19. Style guides are designed to give manufacturers and product partners worldwide an opportunity to use pre-approved art to create their product. The art in these guides gets used on thousands of products globally.
These guides are relatively new but they were still used substantially around the globe in 2021. You can see all four of the guides here.
Iconic Mayhem 0.2 – Based on the success of the first style guide I designed I was asked to provide a new version. This time I focused on a new color palette and contemporary typography.
Stay Trippy – This guide was born out of a piece of art I created during the development of the movie. It was originally designed as a movie development piece that was then built upon to create a guide. It marries vintage looking cosmic design with tripped out floral seventies minions.
Momo's Minions – Working with the incredibly talented Momo Wang this design was created to support the halo partnership business. Momo is a very established animator and artist and it was a pleasure to work with her interpretation of the minions characters.
Iconic Mayhem 0.3 – By the end of the year Iconic Mayhem one and two were so well received and used by partners, I was asked to make a third. This one was focused on color and texture as well as the introduction of rendered 3D minions.
I was the creative director on these guides, creating graphics, mood-boards, patterns and icons. The art and production was supported by Lincoln Design Company, Tatiana Krasovski, Momo Wang Adam Highton. Character art support was provided by Sean Millard.