Art Show/Event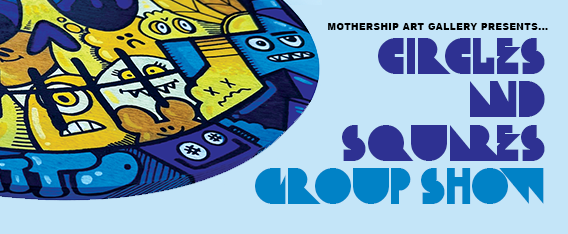 I was invited my Martain Toys to take part in their group show, Circles + Squares. Hosted by Mothership Art Gallery in Philadelphia, this group show was packed with awesome artists. The show asked that each artist paint a circle and square shaped piece of art. This made for an interesting artistic challenge.
I decided to make the two pieces work together as one or work independently if they became separated by different purchasers. I took the classic skull and crossbones and filled them with my signature doodles. The pieces can be seen and purchased here.
View Full Post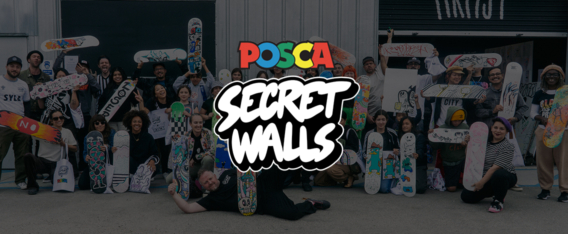 Secret Walls is a brand I have been a fan of for a long time. Based in Los Angeles, they create art battle events that test the creativity and skills of artists, live! They have become known around the globe for their collaborative approach to art and live events. Their roster of artists is truly impressive. So when they asked me to get involved in an art workshop and live art battle I was just a little bit excited.
Myself and 4 other artists designed daily workshops to deliver at Secret Walls HQ. My art workshop was focused on collaboration. Students on the day got to work together on large pieces and design and paint their own skateboard deck. The event was supported by Posca paint markers, which was incredible because I am a big fan of their products. My workshop went well and I had a brilliant time. So many great artists attended and the crew at Secret Walls were very welcoming and professional.
The day also involved an interview and photo shoot, which was a little daunting. I have done several in the past but this one felt special. I met with the other artists and made new friends. I hope I inspired the attendees and showed that working together can create magic. At the end of the week all of the artists descended on Secret Walls HQ to battle on two large walls infront of a live audience of around 300. I was grouped with GoopMassa, Angelonce, Artizinfinite and Jacob, who I selected to attend the battle from the workshop day. We battled against the talented Dreyfus, Upendo, MrBBaby and Jesseart. It was a long sweaty battle but my team prevailed with the win!
It was a great experience, with amazing people and I met some awesome new artists too. If you don't know Secret Walls, check them out – they do great things. Highlights of the event can be found here – https://uniballco.com/collections/posca-x-secret-walls
View Full Post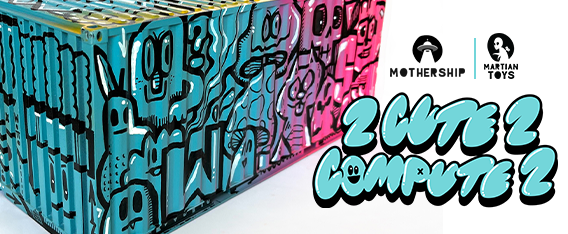 Martian Toys & Mothership Art gallery invited me to join their annual group art show 2 cute 2 compute in Philadelphia. The show is in it's second year and boasts an impressive list of artists. I was so pleased to be asked. I created several pieces for the show. I hand painted all over a to scale shipping container blank and a brick wall vinyl toy. Both took a lot of time and featured lots of detailed doodles. I used spray paint, paint marks and acrylic to cover these 3D pieces.
I also created several detailed doodle paintings on canvas. Two larger canvases, three smaller canvases and 6 mini canvases that can all fit together to make one consistent doodle design. The show was a big success with most of my pieces selling out. There are a few pieces still available here through their website.
There were six other artists in the show, all bringing some amazing pieces. Ejits, Beanie Bat, One-Eyed Girl, Marina Sapiens, Vodka Margarine and Space Rabbit Creative Studio. It has been a long time since I last exhibited in a gallery. I had a few bad experiences several years ago with L.A based galleries but my return with these partners was an amazing experience! Thanks to Martian Toys and the other artists for making this show such a big success.
View Full Post